Stellar Seller Review: Aaron Chand and the Jamison Team of Lipply Real Estate Excel in Tarpon Springs, FL
Posted by Aaron Chand on Monday, March 6, 2023 at 12:01:54 PM
By Aaron Chand / March 6, 2023
Comment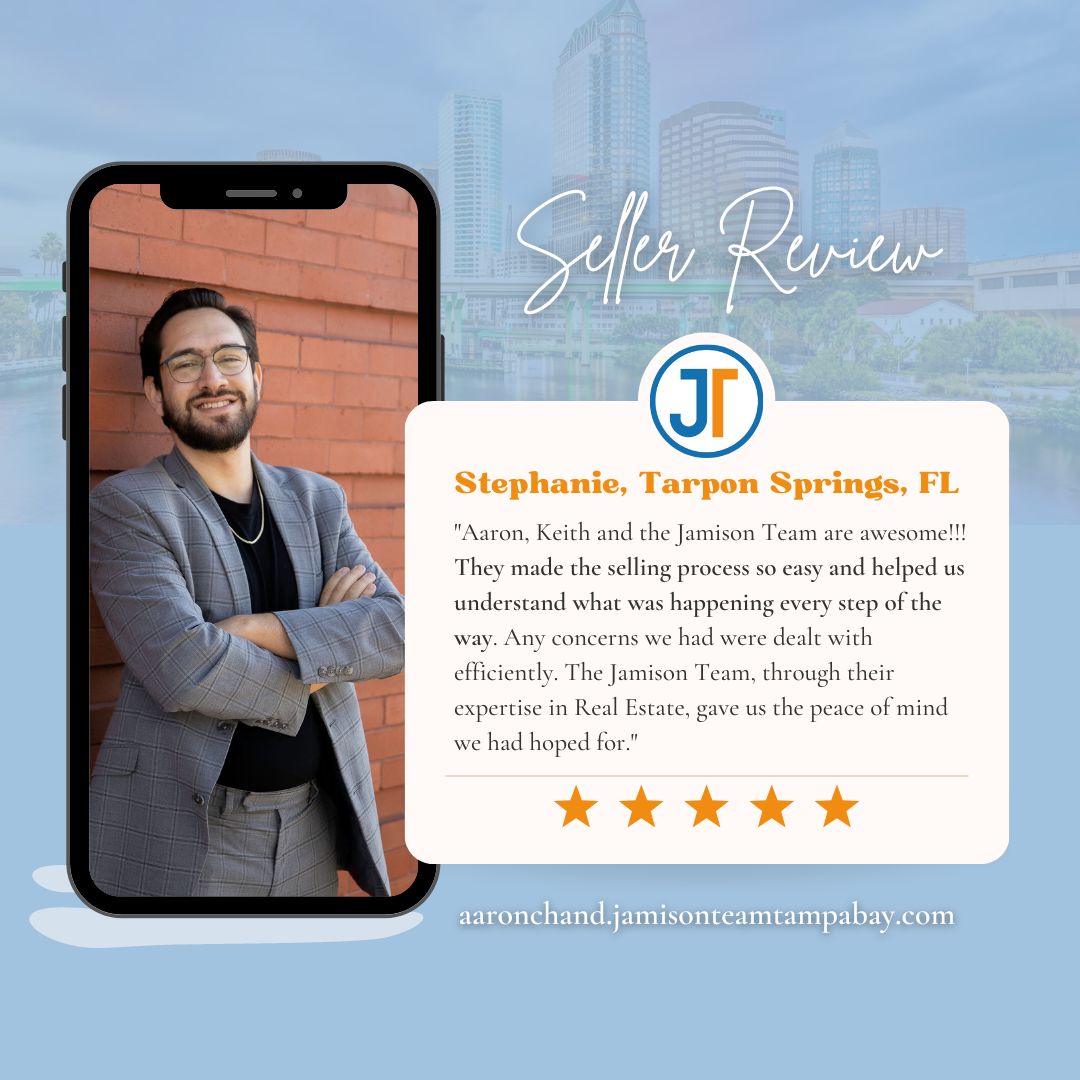 In the ever-evolving world of real estate, it's essential to work with a knowledgeable and experienced team that can expertly navigate the process. We recently received an incredible review from Stephanie, a satisfied seller in Tarpon Springs, FL, who worked with Aaron Chand, a top-notch Realtor from The Jamison Team at Lipply Real Estate. Stephanie's experience highlights the importance of having a team like the Jamison Team by your side, ensuring a seamless and stress-free experience.
As the real estate market continues to heat up, it's critical to have a Realtor who not only understands the current trends but also possesses the necessary expertise to guide clients through every step of the selling process. Aaron Chand and the Jamison Team of Lipply Real Estate have demonstrated time and time again that they are the go-to professionals in the Tarpon Springs area.
Stephanie's glowing review is a testament to the dedication, professionalism, and customer service that Aaron and the Jamison Team consistently provide. She shared her appreciation for the team's ability to offer peace of mind during a typically stressful process. As a seller, having a Realtor who is well-versed in the local market, pricing strategies, and negotiation tactics can make all the difference when selling a property.
The Tarpon Springs real estate market is booming, and sellers need to work with a team that has a proven track record of success. Aaron Chand and the Jamison Team at Lipply Real Estate have consistently delivered positive results for their clients. They have a deep understanding of the local market, ensuring that their clients get the best possible outcome when selling their homes. Their commitment to excellent customer service and strong negotiation skills has made them a top choice for sellers in Tarpon Springs, FL.
In conclusion, we want to extend our heartfelt congratulations to Aaron Chand of the Jamison Team at Lipply Real Estate for receiving such an outstanding review from Stephanie. We're thrilled to know that our clients can rely on their expertise, dedication, and customer service to make their real estate journey as smooth and successful as possible. Thank you, Stephanie, for sharing your positive experience with Aaron and the Jamison Team. Your satisfaction is our greatest reward, and we look forward to continuing to serve the Tarpon Springs community with the highest level of professionalism and expertise.