How much will your property taxes be for your new Tampa Bay area home?
Posted by Jillian Jamison on Friday, January 17, 2020 at 12:26 AM
By Jillian Jamison / January 17, 2020
Comment
For potential home buyers in the Tampa Bay area, one of the recurring concerns is deciphering the intricacies of property taxes. If you're gearing up to invest in this thriving real estate market, understanding the nuances of this tax system can be pivotal. With years of experience as one of the top realtors in Tampa Bay, I've garnered insights and resources to make this journey smoother for you.
The Basics of Property Tax Calculation
Each year, the county property appraiser assigns an assessed value to homes. After deducting relevant exemptions, this value is multiplied by the millage rate, determining your tax amount. However, the process has more layers than this straightforward calculation suggests.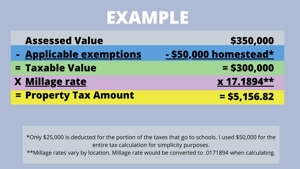 Interpreting Property Listings
When you liaise with a real estate agent, they'll present you with a property listing, highlighting the tax paid by the current owner in the previous year. But a word to the wise: take this number as an estimate rather than a definitive figure. Taxes can fluctuate annually, with significant changes post-sale. Delve deeper into the listing. Does the current owner benefit from a Homestead exemption? This exemption, exclusive to primary residences, can reduce the tax liability, so if it's in place, the owner's taxes would be lower than those without it.
Homestead Exemption Nuances
There's an interesting facet to the Homestead exemption: a cap on the annual increase in the assessed value of the homesteaded property. This value can't exceed 3%. Consequently, if the previous owner enjoyed the residence for an extended period, like 15 or 20 years, their taxes might be considerably lower than what a new owner might owe.
Leveraging County Resources
If you're looking towards Pinellas County or Hillsborough County, there are tools at your disposal. Both have tax collector websites equipped with tax estimators. By inputting the property details and purchase price, you can get a ballpark figure of your potential taxes. For a more personalized touch, the county tax collector's office welcomes direct inquiries.
To those navigating the vibrant Tampa Bay property landscape or looking to buy in Tampa Bay, remember you're not alone in this. Feel free to get in touch for any real estate queries. Tampa Bay's beauty lies not just in its sparkling waters but also in its welcoming community.